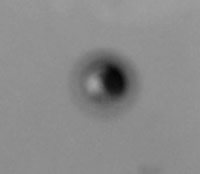 Peculiar Hole-Shaped Indentations

Earth Rover has found no shortage of holes! A wide array of circular hole-type indentations have been witnessed. Typically these anomylies have been sized between 5mm and 7mm wide and are found over most environments.
Our scientists are still unsure as to the exact cause of these holes but Dr. Zoff Holster of the Ground Indentation Co-ordination Task Force said, "These are certainlty holes although we are still unsure as to what exactly the cause of them is."