Summary
Looking for Signs of Anything on Earth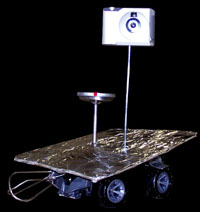 The big science question for the Earth Exploration Rover is how past activity on Earth has influenced the planet's environment over time. While there is no evidence of anything, the record of activity on Earth may be found in the rocks, and geologic landforms. That's why the Earth Rover is specially equipped with tools to study rocks and soils that may hold clues to past activity on Earth.

The Earth Rover will offer a unique contribution in pursuit of the overall Earth science strategy to understanding what the Rover is doing drving around:
Determine whether Life ever arose on Earth
Characterize the Rocks
Characterize the Geology of Earth
Prepare for Human Exploration
How scientists will rely on the Rover to look for signs of anything
Possible Riverbed?
[large] (100 kB)

To do their job, the Rover will carry a number of science instruments that will photograph rocks and soils on the surface and perform other important tasks and studies. The Rover is highly advanced in detecting things of any type at all.

Coming soon: Meet members of the science team who will be relying on the rovers for new information.